Each year, towards the end of the WM year the WM along with the SW And JW select a Mason of the Year. A man who exemplifies the qualities of a Mason in his deeds, actions and time at Jackson Lodge. This year Brother Larry P. McCord was selected as our Jackson Lodge #146 Mason of the year.
Additionally, during the second meeting of the month the WM recognizes those Brothers that are having their Masonic anniversary of when they were raised a Master Mason and given a gift from the Lodge.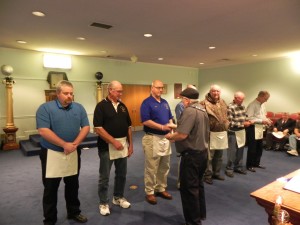 We also had Brothers visiting this evening from down in New Albany way representing several Lodges.